Botanica Flowers is a Columbus, Ohio based full-service event florist. Whether you are planning a corporate event or another type of social event, the Botanica team can assist you in selecting flowers that will accommodate your event and budget needs.

CORPORATE EVENTS
---
Fundraiser Flowers
Holiday Party Flowers
Grand Opening Flowers
Business Dinner Flowers
Gala Flowers
Product Launch Flowers
Trade Show Flowers
Award Ceremony Flowers
...and more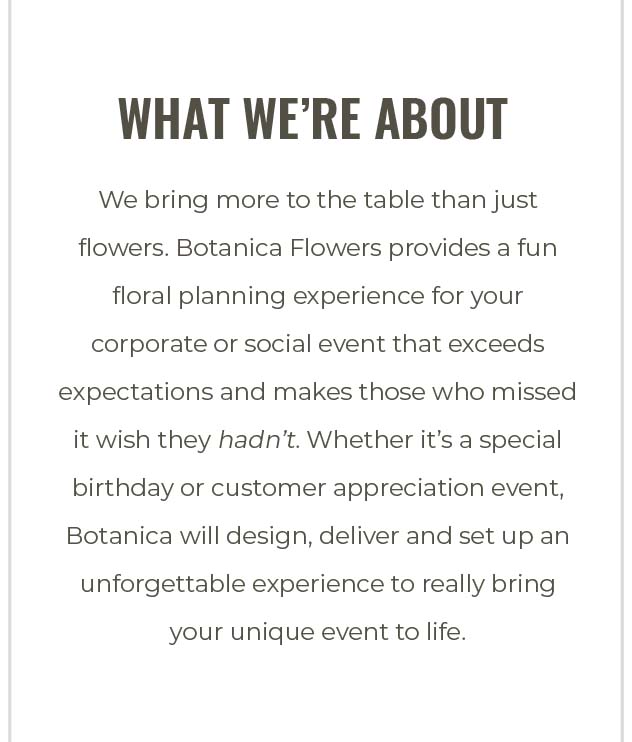 SOCIAL EVENTS
---
Birthday Flowers
Dinner & Cocktail Party Flowers
Reception Flowers
Wedding & Baby Shower Flowers
Holiday Party Flowers
Anniversary Celebration Flowers
Bat Mitzvah Flowers
Quinceanera Flowers
...and more
"Attention to detail, attention to follow up, and attention to follow thru are important. But most important thing is attention to your vision. "
-Amy
"Teamwork makes the dream work!"
-Botanica
Reynoldsburg
6311 East Main Street
Reynoldsburg, OH 43068
Whitehall
4785 East Broad Street
Whitehall, OH 43213
Columbus
1600 Morse Road
Columbus, OH 43229
---
© 2023 Botanica Floral Artisans.
Floral Event Artisans by Flowerama. All rights reserved. Site by m2.